In a previous blog post we said that from the beginning of this year, it became possible to pay yourself in Korean Won by linking one of the Korean payment gateways (PGs) KG Inicis to Shopify. The contents of this blog post are:
What is a payment gateway (PG)?
How to choose which payment gateway suits you?
Korean payment gateways
Eximbay
Paymentwall Korea
KG Inicis
What is a payment gateway (PG)?
First, what is a payment gateway? From Wikipedia:
"A payment gateway is a service that authorizes credit card or direct payments processing for e-businesses, online retailers, bricks and clicks, or traditional brick and mortar. The payment gateway may be provided by a bank to its customers, but can be provided by a specialised financial service provider as a separate service, such as a payment service provider."
How to choose which payment gateway suits you?
If (most of) your customers are in

Korea

, you will need a Korean payment gateway.
If your customers are

international

it is better to connect PayPal or alternative (Eximbay).
In order to complete this online store payment process, it is essential to connect the PG to proceed with purchases and payments. In addition, localization of payment methods is essential to meet the needs of customers in different countries if they want to enter not only domestic, but also overseas markets.
Related blog post: Shopify vs Cafe24 (ecommerce platforms comparison)
Korean payment gateways
In Korea, there are 3 Korean payment gateways that you can connect to Shopify:
KG Inicis
Eximbay
Payment Wall Korea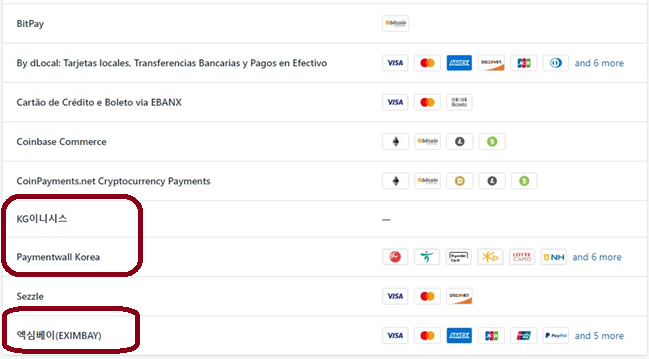 First, let's take a quick look at the features of each PG as well as the fees. By looking at the characteristics of each company, you can find out which PG fits the personality of your online store.
Note: hereafter, when we write "fees", they are all fees per transaction.
Eximbay
Eximbay is a Korean PG, a cross-border payment company that provides the most global payments in Korea. Sellers in Korea looking to expand their stores overseas can easily expand their global payment methods through Eximbay. In addition, overseas stores targeting Korean customers can also receive overseas settlement support by using the Eximbay global integrated payment service.
Eximbay is a simple payment service like a Korean credit card, Kakao Pay, Payco, Toss, etc., or international credit cards such as VISA, Master, JCB, AMEX, and Unionpay, PayPal, WeChat Pay (a payment service of WeChat, a Chinese messenger app). Eximbay supports Alipay, Bestpay, Japanese payment service Exontext and Russian payment service Yandex Money.
In addition, it provides services not only to global online stores, but also to various industries such as department stores, duty-free shops, hotels and convenience facilities both online and offline.
If you are a merchant targeting East Asia such as Korea, China, Japan or Russia, this is a PG that is worth considering. With the investment attraction recently, Eximbay can be expected to accelerate the expansion of cross-border payments and provide more stable services in the future.
Eximbay services and fees that can be linked to Shopify
Global credit cards: 4.5%

VISA, MasterCard, AMEX, JCB, UnionPay

PayPal: 0.2%
Korean card payments: 3.3%

BC, Shinhan, Kookmin, Lotte, Samsung, Nonghyup, Hyundai, Hana

Easy payment in Korea: 3.0%
Payment in China: 3.8%
Payment in Japan: 4.5%

Econtext
4.5% cancellation fee + 500 yen remittance fee deducted

Southeast Asia payment: 4.5%

4.5% cancellation fee
MYR only

Payment in Russia: 4.5

Yandex
4.5% cancellation fee
RUB only
So EximBay fees range from 0.2% -5%, which varies by payment platform/method. However, a subscription fee of 100,000 won is incurred, and up to 3 sites based on the same operator are supported at one initial cost. See more fee details: https://www.eximbay.com/
Paymentwall
Launched in San Francisco, USA, Paymentwall supports customer support services in over 200 countries and in over 30 languages. Besides the pricing page, the website does not support the Korean language, only English and Chinese. However, you can directly contact the Korean branch office of Paymentwall.
Paymentwall Korea Branch: 031-8018-8474
Email: [email protected]
Paymentwall provides a variety of services, with the advantage of supporting global credit cards as well as overseas local account transfer, overseas carrier payment, and over 150 local alternative payment methods with a single API integrated system. However, all business accounts are charged a monthly fee of $100, which includes additional features. Learn more about additional features https://www.paymentwall.com/kr/pricing (see the bottom of page).
Paymentwall services and fees that can be linked to Shopify
Credit card payment (Brick)
For companies registered in Korea, a fee of 3.9% + $0.30 per payment is charged. For overseas payments such as Visa, Master, Amex, Discover, JCB, and UnionPay, there may be an additional 1% cross-border fee applied.
Mobile payment method (Mobiamo)
Payment is possible with the three major Korean telecommunications companies and supports small payments of 100,000 won at a time. The fee is 5%.
Global Alternative Payment Method-PW Local
A fee of 2% is charged according to the payment option. PGs, such as the Dutch iDeal, widely used in Europe, charge a 1-5% fee, and 7-20% for cultural vouchers classified as domestic prepaid cards.
Global Gateway (Spiderpipe)
It is remarkable that it supports Bitcoin, the cryptocurrency. There is a basic option of $0.10 per payment or an advanced option of 2% of the amount per payment.
Global prepaid payment card (Mint)
It is a somewhat unfamiliar payment method with a rechargeable prepaid card developed by Paymentwall.
See detailed fee policy:
https://www.paymentwall.com/kr/pricing
KG Inicis
KG Inicis is a representative online and offline PG in Korea that has the No. 1 market share in the Korean electronic payment payment market. Even if you don't know anything about payment gateways (PGs), anyone who has made a purchase online would have seen the 'KG Inicis' sign in the payment window at least once.
Almost all services are familiar to consumers in Korea:
interest-free installment by card
open banking account payment
mobile phone micro-payment
easy payment
payment of various gift certificates
However, this means that linking your Shopify store is limited to credit cards and debit cards that issued in Korea. Credit cards and debit cards issued overseas cannot be used. Overseas customers will not be able to buy from your store if you use KG Inicis.
KG Inicis services and fees that can be linked to Shopify
Only credit cards and debit cards issued in Korea are accepted. By default, the general fee is 3.05%. However, preferential fees for small sellers is possible and are called 'small and medium fees', which are below. The preferential treatment is divided according to the sales segment. All numbers are in Korean Won.
1.7% with annual sales of less than 300 million
2.2% with > 300 million and less than 500 million sales per year
2.3% with > 500 million and less than 1 billion sales per year
2.5% with > 1 billion and less than 3 billion sales per year
3.05% (regular fee) with > 3 billion or more sales per year
Please note that sales are settled for each half year at the end of January and at the end of July, and fees for each sales segment are applied after one year.
The sales amount of the business operator is automatically reported to KG Inicis by the National Tax Service, so you only need to refer to the fee calculation.
---
Punch Digital Marketing has been a Shopify Partner since 2018. We can help you build and market your Shopify store!
Questions about Shopify or just want to hang out with other merchants? Join our group! https://www.facebook.com/groups/koreashopify/
Try Shopify 14 days for free: https://www.shopify.com/?ref=punch-digital-marketing.
Read about Shopify news in Korean here: https://blog.naver.com/punchkorea.